Rhodes has been a mainstay of Greek island holidays since the dawn of the Greek summer. It is a comprehensive holiday destination that counts on size, versatility, and sheer beauty to attract visitors. The truth is that Rhodes has everything you could need and want from a great trip, especially with the kids, as the island is packed full of things to do for ideal family activity holidays. From waterparks and kids' museums to natural wonders and spectacular beaches, and an all-inclusive 5 star hotel in Rhodes, families can have it all. For more inspiration, read on to find some of the best activity-based things to do with the family on the island of the Knights.
1. Cultural Excursions
The Palace of the Grand Master & Lindos Acropolis
Top of the list for family activity holidays in Rhodes is to start exploring. Nothing gets a kid's imagination going like a visit to a real-life castle. And in Rhodes Town, that is exactly what you'll find. Built in the late 7th century AD by the Knights Templar, the Palace of the Grand Master is a massive fortification that stands sentinel in the old quarter of Rhodes Town, and is impeccably preserved, which is no small feat in a land that has seen its fair share of conquests and invasions.
For children, seeing this up close is not only a priceless thrill, but it also serves as an educational tool; to engage them in the stories of the past. Its size practically engulfs a whole Medieval neighborhood, as auxiliary buildings, temples, streets, and plazas all form part of the same district.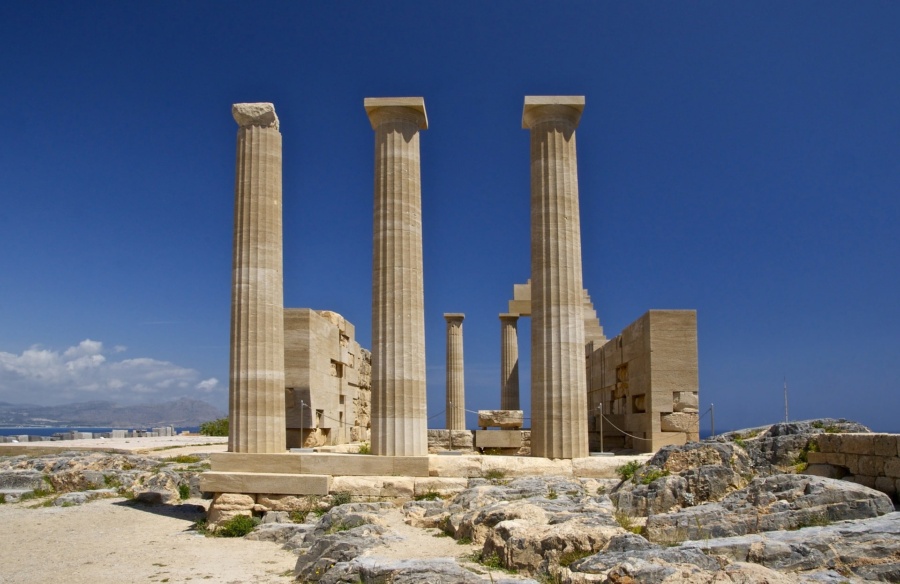 Similarly, across the island in Lindos, you'll find the impressive ruins of the Lindian Acropolis. You'll also find a naturally formed pool built inside the rocks, an oddity that will grab the children's attention, no doubt. You can combine this with a visit to the beach of Saint Paul, right underneath it, to placate hungry mouths and wandering attention spans.
The temple of Athena Lindia stands on top of earlier iterations and is said to predate the Hellenistic era as it was first erected in the 9th century BC, during the Geometric period, while after damage following a fire, it was reconstructed in 342 BC. Several other structures are dotted around it, mainly a theater, a cemetery, and several other latter-day churches. Kids will be fascinated to learn how long ago this site was built on and what it was used for: a religious center, a military stronghold, and a trading hub.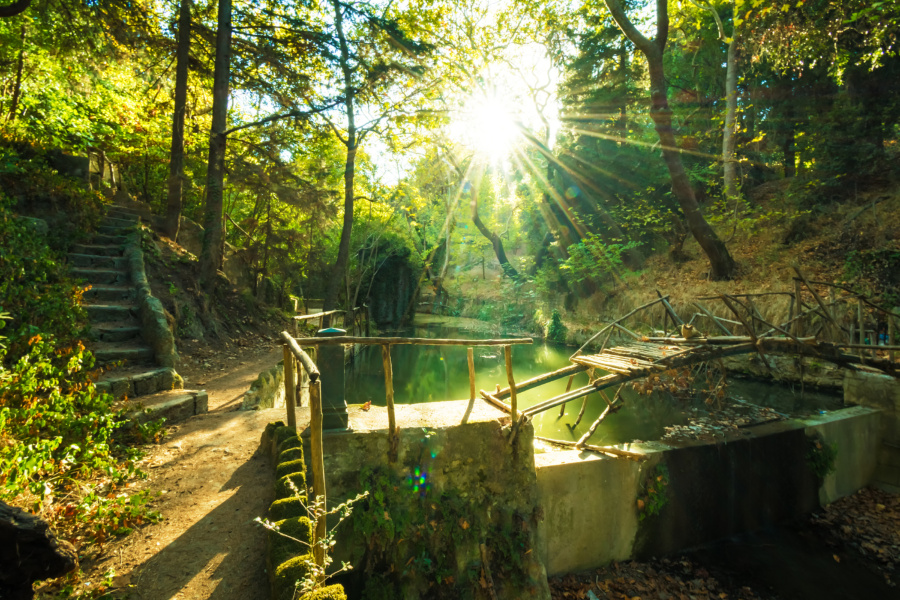 2. Excursions in Nature
The Valley of Butterflies & Rodini Park
Rhodes seems like it was made for the perfect family activity holidays, and the Valley of Butterflies certainly helps back up that claim. Located on 600 hectares of a lush green Natura 2000 reserve in western Rhodes, it regularly features among the top items on any itinerary for family activity holidays. This valley is home to several endemic species of butterflies, and from June to September you're likely to see them in full bloom.

Rodini Park in Rhodes Island, Greece, is a paradise for families seeking outdoor adventure. Nestled amidst lush greenery, this enchanting park offers a haven of tranquility and fun. Kids can explore winding paths, discover ancient ruins, and enjoy picnic spots, while parents unwind in the serene surroundings. A perfect blend of history and nature, Rodini Park promises delightful moments for the whole family.
3. Animal Encounters
The Petting Zoo & Aquarium
Children love animals, so your family activity holidays are sure to include a visit to Farma of Rhodes Petting Zoo. Inside its sprawling 32 square kilometers, you'll find a total of 15 different species of animals to hang out with. There are camels, ostriches, lemurs as well as kangaroos, llamas, and ponies amongst others.
But the animal encounters don't end there. If your kids have a knack for marine life, then visit the Aquarium & Hydrobiological Station of Rhodes, and entertain the kids for a few hours, while they learn about the different species there. Housed in a turn-of-the-century building with art deco styling, it also serves as the home for the Museum of Marine Life, as well as a research center.
4 .Water Fun
Aqua Park & Water Polo
If you want to be sure that toddlers' energy will be well spent by nighttime, the best option available is the Faliraki Waterpark. It is the biggest one in the Balkans and is situated on 100,000 square meters of pristine hillside overlooking Tsambika Bay. As far as family activity holidays go, this recommendation will have your little ones screaming with joy. And you'll certainly buy a great deal of goodwill with them too.
The water park has tons of amenities, like concession points, restaurants, coffee shops and a garden where adults can knock back a beer on the sly. In addition, it boasts artificial waves and a wide selection of slides aimed at young and old alike. If your children are good swimmers and the family is staying at Electra Palace Rhodes, they can try Water Polo as well.

5.Thrills close by
Fun at Electra Palace Rhodes
There will be days when you may choose to stay in your chosen hotel or nearby, simply because holidays also include a bit of relaxation. You'll be glad to know that choosing to stay at one of our family suites in Rhodes comes with the advantage of plenty of amenities and activities for the kids, close at hand.

Our premise has been revived into a premium 5-star beachfront resort; a haven for families, including a range of facilities and services tailored to little ones. Like the 'Summer Knights Kids Club' that runs from 10am to 6pm, under the expert childcare guidance of Good Time Co. For children, there is a basketball court and a 5-a-side football field, with extra benefits like a children's playground, and a freshwater mini pool.
When it comes to family activity holidays, Rhodes is a destination that always delivers. From natural wonders and man-made marvels to fun activities, there is something for every type of child and things to do in Rhodes that the whole family can enjoy. And that is before we even mention the beaches. Staying at the Electra Palace will no doubt enhance your vacation with its plentiful amenities and well-looked-after grounds.